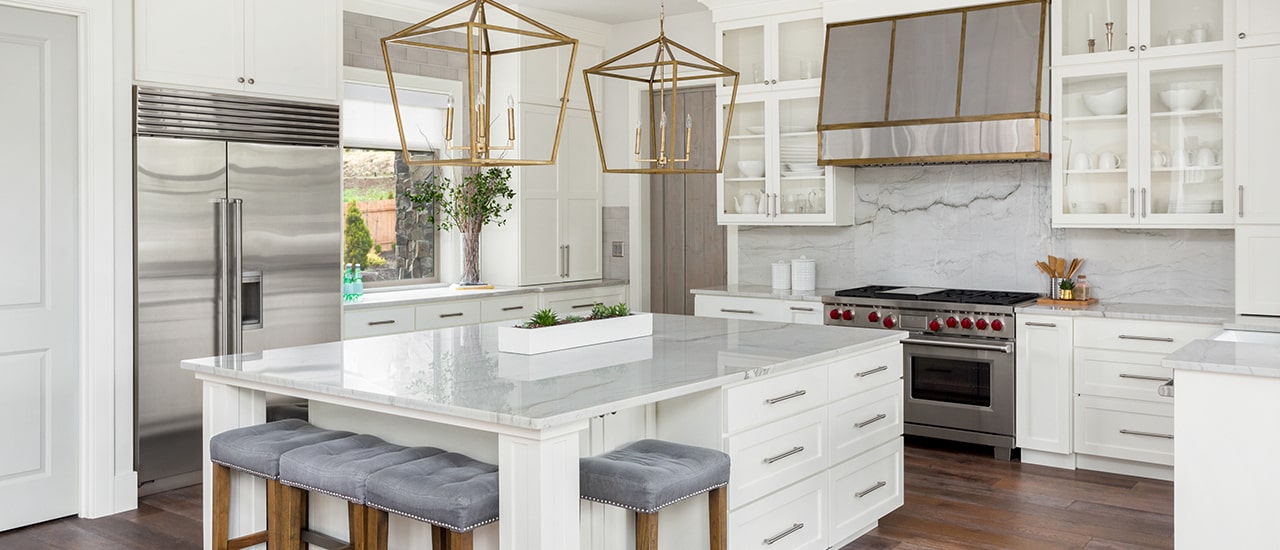 Where to Focus Your Home Renovation Investment
September 10th, 2021
Outdated architectural styles and finishing details can ultimately lower a home's value when styles transition. That fabulous Tuscan retreat is more difficult to sell when contemporary modern homes are now in demand.  For those looking to increase the value of their lifestyle and their home, renovation or remodeling could be a win-win for everyone. Transforming interior and exterior spaces will increase your return on investment and revive your love for an outdated residence. Here are the focal areas you should invest in during your next home renovation:
The Heart of The Home
A place designated for creativity and assembly, kitchens are the heart of the home. A significant amount of time is spent in this space, so remodeled kitchens captivate potential buyers. Creating an open concept kitchen and adding a grand island in the center modernizes the space and allows it to serve multiple purposes. According to Lauren Wicks, "Tile is not just for the backsplash anymore." Floor-to-ceiling tile adds texture to the room and will make it feel larger. Once your kitchen is modernized, you will be wishing you had made the transition sooner.
Tranquil Intimacy
As one of the most intimate spaces in a home, lavatories and owner's suites are always worth investing in. "The primary bath is often overlooked in the renovation process, but we know how valuable they are to owners and buyers," says Llwyd Ecclestone, "We collaborate with our clients to transform this space into the sanctuary they have been dreaming of." To create tranquility within the area and increase your estate's overall value, add spa-like features. Large walk-in showers with seamless glass enclosures and modern fixtures like rain-shower heads will create an upscale in-home experience that appeal to prospective homebuyers.
Upscale Innovation
Serving mainly as a place to rest, upgraded bedrooms are in high demand. Automatic blinds can be set to open or close at designated times. Voice command technology can control lighting, room temperature, television and music settings and more. Adding custom built-ins, TV stands, vanities or even workspaces allow the homeowner to create a personalized space that fits their needs. New paint, flooring, light fixtures, windows and other basic features are various ways to transform your bedrooms and ultimately raise the value of your estate.
Create a Lush Paradise
As outdoor living spaces grow in popularity, it is never a bad investment to upgrade your estate's exterior. Renovate your backyard to include multiple scenes for entertaining, such as an outdoor kitchen, bar and dining area. Florida Residents take pride in the sunshine state's beautiful year-round weather, and today's homebuyers seek properties that make the most of this location-specific feature. In addition to outdoor entertainment spaces, a lush landscape will ensure your estate makes the right first impression. According to HGTV, the average return at resale for landscaping is well worth the cost.
Whether you plan to sell your estate or end up deciding to enjoy it for years to come, renovations and remodeling are great ways to give your space a new life. Ecclestone Signature Homes specializes in transforming estates into the perfect fit for any homeowner's desires or needs. With more than 35 years of experience in exclusive enclaves from Palm Beach to Wellington to Delray, Ecclestone Signature Homes is one of the most trusted luxury home builders in South Florida and has evolved its services to expand into in-home customization, remodeling, and luxury renovation.
The Ecclestone Team possesses the experience, and all the technical resources required to deliver a turnkey renovation solution to your client's specific wants or needs. Our management staff is second to none and will provide excellent service for your clients by alleviating any renovation-related concerns and detailing the step-by-step process of making their dream home a reality. To learn more about our services or to view our portfolio you can CLICK HERE or call 561.464.6093.