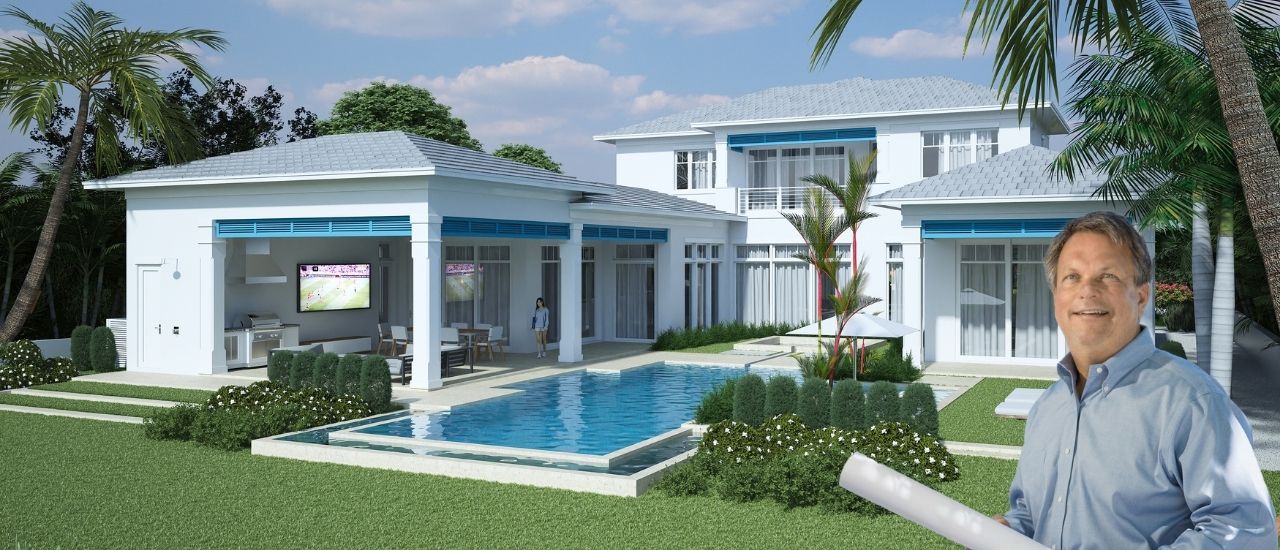 See How This Palm Beach Estate Home Builder is Evolving with Design Trends
July 29th, 2021
Ecclestone Signature Homes – Master Estate Builder and Luxury Home Renovator
Voted as "Builder of the Year" three times by the Gold Coast Builder's Association, Ecclestone Signature Homes is the face of luxury estate home building in Martin and Palm Beach counties. As a part of a well-known family that brought PGA National to life, master builder, Llwyd Ecclestone III, is driven by a passion for luxury transformation and the pursuit of excellence. As custom home styles have evolved over time, Ecclestone Signature Homes has remained at the forefront of the industry, delivering exceptional quality and personal service. Ecclestone's commitment to the homebuilding process assure clients that no request is overlooked. Here's an inside look at how the company has grown over time to become a recognized leader in luxury home building.
Past: Laying the Foundation
Building a strong reputation is just as important as building a quality home: it all starts with the foundation. For the past 35 years, Ecclestone Signature Homes has diligently worked to become the most trusted estate building company in the South Florida area. What sets Ecclestone Signature Homes apart from other alternatives is the variety of services they offer and unrivaled expert knowledge. Specialized attention to land acquisition, architectural coordination, project management and construction consulting, the senior management team at Ecclestone plays an active role in the luxury home building process from start to finish. The estate building team boasts an extensive line of homebuilding experience, providing luxury homeowners with a dense portfolio of past builds from which to draw inspiration. Ecclestone has built its foundation by becoming the most reputable company in the area through satisfied clients that see their architectural dream become a reality.
Present: Building the Structure
Ecclestone Signature Homes continue to pave the way for innovation and expansion. Currently, the team is expanding its services to encompass high-end, luxury estate home renovations taking advantage of their rich experience. With the post-pandemic surge of real estate sales in South Florida, custom renovation services for luxury estates are in high demand. Ecclestone is uniquely positioned to offer a no-stress experience with constant support and communication from start to finish. In addition to large scale renovations, new estate home build projects continue to be the core business for this dynamic company. The team at Ecclestone engages tightly vetted and highly specialized local connections of tradesmen, subcontractors, engineers and inspectors. Clients are assured of in-depth knowledge premium of product installations, service requirements and unmatched knowledge of local codes and requirements throughout the estate building and remodeling processes. For more information about renovations and consultation services, visit here.
Future: Building Tomorrow's Homes Today
The future for Ecclestone Signature Homes is certainly bright. The company is dedicated to staying at the forefront of the latest technology, including sustainable building practices. Ecclestone Signature Homes is committed to offering the latest roofing technologies, energy innovations, smart-home systems and advanced security and appliance packages. Working with a robust client portfolio of some of the finest homes in the area, Ecclestone is positioned on the cutting-edge of technology and trends. The team delivers a contemporary lifestyle that is focused on meeting the needs and tastes of the area's most exacting homeowners. This devotion to innovation is just one of the many reasons Ecclestone Signature Homes is a preferred curator of luxury estate renovation and home building in South Florida.
Ecclestone Signature Homes offers a turnkey home renovation or custom estate home solution. To view their portfolio and learn more about their services, visit EcclestoneHomes.com or call 561-464‑6093 to schedule a creative input session or one-on-one consultation.