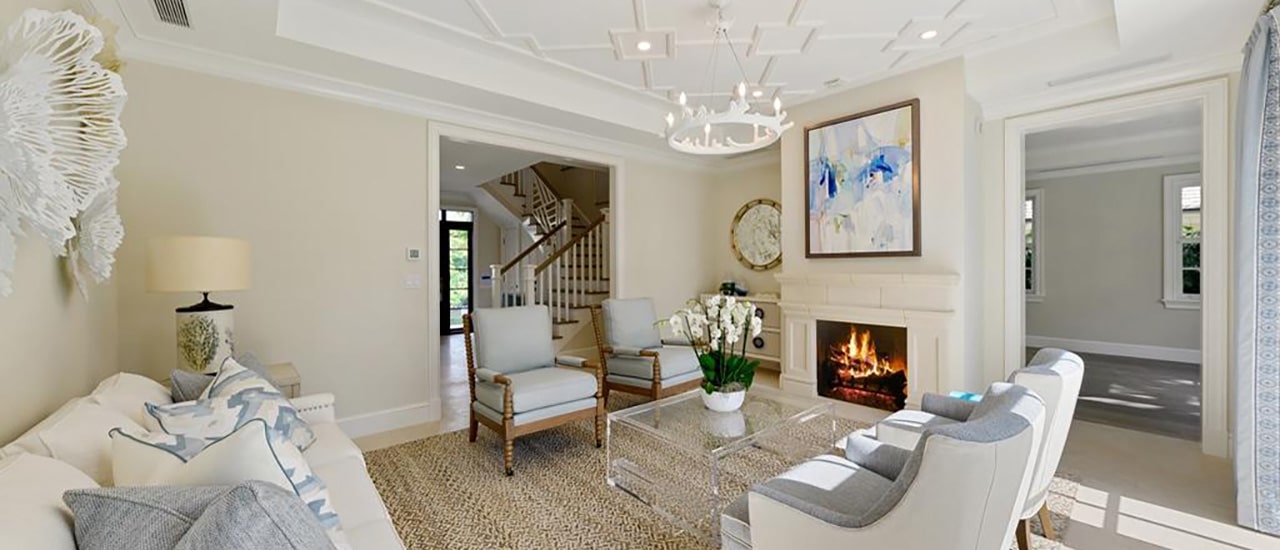 Million-dollar listings: New Palm Beach house overlooks country club's golf course
May 5th, 2020
A never-lived-in house developed on speculation backs up to the north end of the Palm Beach Country Club, a position that gives it direct golf course views.
A new West Indies-style home at 232 Bahama Lane was an especially satisfying project for interior designer Lisa Erdmann, who bought the property with a partner in 2018.
Erdmann worked on the house with Four Points Construction, the company run by her brother, E. Llwyd Ecclestone III, along with Palm Beach architect Patrick Segraves and landscape designer Fernando Wong. Erdmann specified materials and furnished some of the rooms.
"I enjoy the whole process of designing and assembling, be it for a client or for an imaginary client," she says. "I've worked on numerous homes with other people. This was the second one as my own project with my own investment."
Recently completed, the four-bedroom, five-and-a-half-bathroom home has 4,700 square feet of living space, inside and out. It has been listed at $6.85 million with agent William Yahn of The Corcoran Group. The furnishings are available separately.
"It was really fun to do," Erdmann says about the project. "Included in this house, the new owner will get all this custom design work — special designer touches — like we do for our (interior design) clients, which gives the home a unique character."
Specifically, she is referring to custom Chippendale-style fretwork railings on the staircase, a linear design motif repeated throughout the home. Other touches include custom-designed ceilings, pecky-cypress details and bathrooms appointed with marble slabs, tile and mosaics. One of the two master bathrooms has walls covered in a Scalamandre wallpaper along with a freestanding tub and walk-in shower. The other master bath's walls feature grasscloth.
In some rooms, floors are covered in white Jura Limestone from Paris Ceramics, while others feature European oak. Kitchen countertops are made from Bianco Lyra marble, and door and plumbing hardware have a polished nickel finish.
Apart from the design elements, the house has another notable feature: It overlooks the north end of the Palm Beach Country Club's golf course.
"When we were looking for a project, what really drew us was the beautiful golf course view. It's unique. Palm Beach doesn't have many golf-course lots," Erdmann says.
On a quarter-acre lot shaded by olive trees and palms, the house has a white façade and white roof, set off with sky-blue shutters and bays topped with copper panels. The architecture recalls Dutch colonial styles found in the West Indies.
The foyer and stair hall are flanked by a guest bedroom to the east and the dining room to the west. To the south are the living room, kitchen and library. In the west wing are an attached two-car garage and the family room, which opens to a covered patio.
Erdmann chose a color palette designed to give rooms a casual and comfortable feel — sea blues and aquas are paired with neutral sand colors.
The living room, overlooking the lap pool and patio area, features a gas fireplace with a cast-stone surround. The tray ceiling's molding details pick up lines similar to the Chippendale-style stair railing.
Sliding doors in the family room open to the loggia, where another gas fireplace has been given a custom-designed stucco surround. Ceilings in both these rooms are lined in cypress.
With off-white cabinetry, the kitchen has a breakfast area set within a bay window overlooking the pool. A center work island accommodates pull-up seating.
On the second floor, two guest bedroom suites face north, while the south-facing master bedroom opens to a balcony with vistas of the fairways.
"It's really pretty and serene to wake up and see the lakes and palm trees on the golf course," Erdmann says.